WATCH: Rebecca Black covers Miley's "We Can't Stop"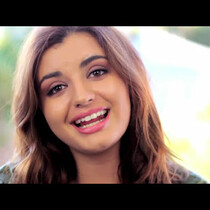 Posted July 13th, 2013 @ 9:24pm
Remember Rebecca Black? No? OK, let me get this stuck in your head... "Friday, Friday, gotta get down on Friday..."
NOW you remember.
Funny story: she just released this acoustic version of Miley Cyrus's "We Can't Stop" on her YouTube. Check it out below the jump!
Thoughts? It's actually not horrible!